How Did Dalen Pluskett Open His Tacoma Staffing Franchise?
As a seasoned business professional, Dalen Pluskett understands the importance of relationships in the success of businesses and employees. Or, in his own words, "Throughout my years in business, I've recognized the importance of relationships in the success of businesses and employees."
And at NEXTAFF, we're all about these relationships. These relationships are built not only with businesses but also with candidates. And we build these relationships by finding the ideal match between candidates and employers.
Because of this, Dalen understands the need for a quality staffing and recruitment franchise like NEXTAFF to help local businesses realize their potential through new solid hires whose expertise is a perfect match for their position.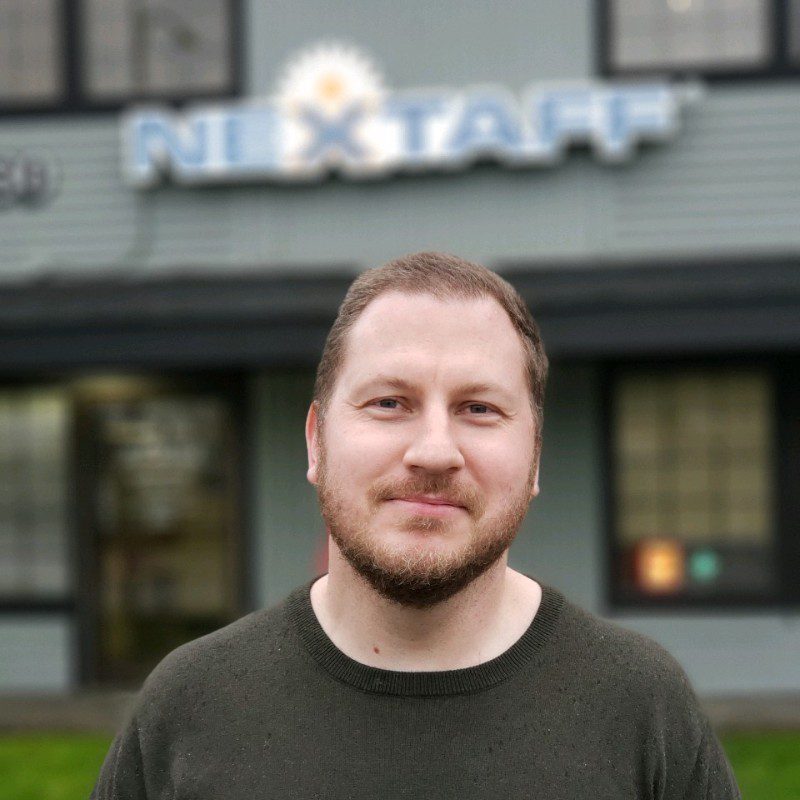 This is, in a sense, due to the use of our proprietary recruiting method. We call this X-FACTOR. This method uses specific hiring methodologies that are statistically proven to outperform typical staffing agency competitors and HR departments. And when we say outperform, we don't mean by just a bit. It can outperform these competitors by as much as 100%.
Typically, businesses come to a NEXTAFF Franchise Owner who sells their staffing services to these businesses. X-FACTOR then takes profiles of the business's most successful employees and allows Franchise Owners, like Dalen, to know precisely what kind of talent the business needs. 
Because X-FACTOR is so effective in finding the right talent, the business ensures that it finds the right people, and the Franchise Owner is uniquely positioned to deliver this service.
Once the Franchise Owner has this profile of the ideal employee, NEXTAFF's recruiters are then able to find the right people to meet the standards identified in the profile. 
In simple terms, for businesses that want their new hires to be the perfect match, there's no better tool than X-FACTOR. Dalen is also excited about this. He says, "I'm looking forward to using strong relationships and the tools NEXTAFF provides to create the ideal match between candidates and employers."
But building relationships goes far further than just between employees and businesses. We also value the relationships with our customers. 
To build these relationships, we have large territory sizes, which means our Franchise Owners have more significant potential to partner with more companies in a given area. This allows them to increase their reach and presence in the region and, in the process, build a strong reputation among businesses that need staffing assistance.
Also, unlike many other staffing companies that would typically offer only one vertical, NEXTAFF offers multiple verticals like IT, healthcare, and commercial verticals. This, ultimately, means that our Franchise Owners can capitalize on the need and demand for quality staffing solutions in virtually any industry. 
This, in turn, means that Franchise Owners are able to build stronger relationships, not only with businesses in a variety of industries but also with candidates.
Choosing to open a recruitment franchise: Dalen's NEXTAFF journey
Now, Dalen has a wide range of business experience, so why NEXTAFF? 
Well, one of the main reasons was NEXTAFF's emphasis on the tenets of quality, trust, and outstanding service and its drive to be a top workplace and employer of choice for those in the staffing industry. This is also one of the things that set NEXTAFF apart from other staffing franchise opportunities.
Apart from this, there are also other reasons why owning a NEXTAFF franchise was so attractive to Dalen.
For one, the business is uniquely profitable. For example, with a minimum investment of between $123,000 and $152,000, the business is able to generate significant gross revenue. 
In fact, we have a system-wide Average Gross Revenue of $1,953,751* and an Average Gross Profit of $394,662*. As a result, Franchise Owners enjoy a high potential for return on investment, and our median breakeven point lies at seven months.
So, it's easy to see why Dalen was attracted to the excellent investment potential of owning a NEXTAFF franchise.
Besides, it also gives him an immensely emotionally rewarding career where he's able to leave work every day knowing that he helped match someone to the career of their dreams.
Another significant contributor to Dalen opening a NEXTAFF was simply the need for more high-quality staffing services in Tacoma. Or, as he says: "The Tacoma market offers plenty of opportunity for employers and candidates."
And it's not just in Tacoma where the industry is flourishing. It's growing at a rapid pace. For example, in 2019 alone, the global staffing industry generated a revenue of $497 billion. In the same year, staffing and recruitment industry sales in the United States peaked at $161 billion.
Likewise, in the United States alone, there are about 25,000 staffing companies that altogether operate about 49,000 offices. In addition, the American workforce now stands at 160.2 million people, and this number is expected to increase to 168.8 million in 2029.
It's easy to understand why Dalen saw this as a massive opportunity.
Unparalleled Staffing Franchise Training & Support
The final piece of the puzzle, though, was the unmatched support that NEXTAFF offers to its Franchise Owners.
This support starts from the time when a Franchise Owner buys a new franchise. During the initial training, Franchise Owners get about 10.5 hours of onboarding, 62 hours of classroom training, 31 hours of online training, and 23 hours of on-site training. 
This training covers operations, services, costs, cash control, customer service, marketing, and sales programs, field employee scheduling, management, and the roles of employees. Simply put, with over 100 hours of training, we prepare Franchise Owners and give them all the tools they need to make their business a success. 
We also host weekly onboarding calls for the first three months of business, and we have weekly sales and recruiting debriefs as well as monthly group training sessions. Also, our field support is extensive and covers all the back-office support we give to our Franchise Owners. This covers everything from marketing and sales to operations, management, and finance.
Early on, Dalen saw that we're with our Franchise Owners every step of the way and that there was no other choice but to take this opportunity.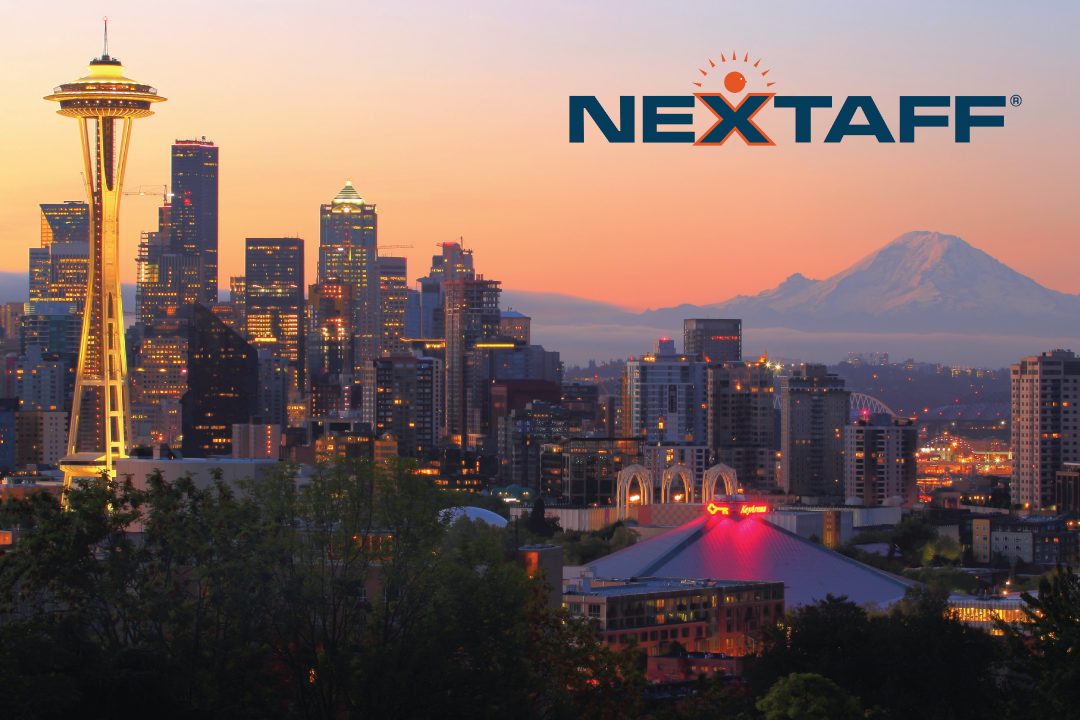 What makes Dalen an ideal NEXTAFF Franchise Owner?
Now we've answered the question, why Dalen chose NEXTAFF for his business. But on the other side of the coin is the question, why Dalen?
In simple terms, he ticked all the boxes that make someone a good fit for a NEXTAFF franchise. In short, we look to partner with investors who have strong sales skills and experience, who love to talk to people, who want to be part of a supportive system, and maybe most of all, who have the drive to succeed.
Typically, we require our prospective Franchise Owners to have a sales background with experience in B2B sales. As a seasoned business professional with a wide range of business experience, Dalen was an easy choice for us. In addition, our last requirement is that all our Franchise Owner candidates have a net worth of at least $175,000 with at least $150,000 in liquid capital.
When qualifying investors tick all those boxes, as Dalen did, they are invited to begin a mutual evaluation process over a period of 4 to 8 weeks. During this time, we learned more about Dalen and made sure that he is well suited to our recruitment franchise. We also saw that our business opportunity was well suited to his needs and requirements.
As a result, Dalen was more than happy to invest in a NEXTAFF franchise.
Dalen's next steps for a successful Tacoma staffing franchise
So, where to next for Dalen? Well, as he says when referring to the opportunities for employers and candidates, "We are committed to making matches that will be advantageous to both." 
And these opportunities will always be there. Although the COVID-19 pandemic has brought about its fair share of uncertainty and challenging times for many, the staffing industry will always be necessary, no matter how low or high the employment levels are. 
In simple terms, when unemployment is low, businesses struggle to find the right candidates. Likewise, when unemployment is high, businesses are flooded with applicants when they post a listing.
This means that employers will always need new people, and employees will always need jobs. We bridge this gap by finding businesses the right candidates with the right skills for the job. Along the way, we save businesses money and time because the hiring process is expensive and it's time-consuming.
When we do this, businesses can focus on their core competencies and business goals and leave the employment process to us. As a result, the demand for our services is always constant. 
And Dalen knew this by grabbing this opportunity with both hands. Because of this, he now has a strong business with plenty of opportunities to generate revenue. Besides, the emotional rewards and the support he gets make this a win-win, which sets him up for future success. 
If you, just like Dalen, are interested in starting your own business and you want to find out more about the benefits of owning a NEXTAFF franchise could mean to you, visit our website or contact us for more information.
* Numbers obtained from our 2020 FDD
Like us on Facebook. Follow us on Instagram. Connect with us via LinkedIn. Subscribe to our YouTube channel.
Your path to a secure future.
Take the first step. Find out more about one of the fastest growing companies in the $160 billion staffing agency franchise industry. Our detailed Franchise Information Report teaches about our business model, financials, and more.
Complete the form below for your free copy.