LOW INVESTMENT,
HIGH GROSS PROFITS.
Median Breakeven Point: 7 Months.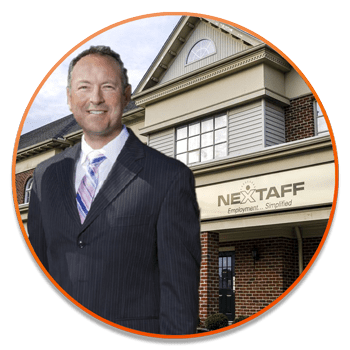 Average Gross Revenue
$2,935,469*
Average Gross Profit
$756,819*
*Refer to 2022 Franchise Disclosure Document 2022- Item 19 Average Figure Break Down
HOW MUCH


CAN I MAKE?
Qualifying applicants who move forward with our Franchise Education Process will be granted access to our Franchise Disclosure Document (FDD), where they can view all numbers, economics, figures from NEXTAFF locations. For now, here's a quick look at what NEXTAFF Staffing Franchise Owners earned on average in 2020:
WE CAN HELP FINANCE


YOUR DREAMS
We're excited to announce a funding partnership with Benetrends. We are here to help you achieve your dream of entrepreneurship sooner by matching you with the right franchise funding plan to fit your needs.

THE RAINMAKER PLAN® IRA ROLLOVER
Safe and proven plan with

no debt, no penalties, and no upfront taxes

Quick

4-step process

with secure, fast funding
*Exclusions apply. Please consult with our funding experts for full details.
**SBA Loan Money-Back Fee Guarantee:
If Benetrends accepts your application for processing, we guarantee your application will be approved or we refund 100% of our fee.
***Once approved, a financial package will be needed for verification.
ARE YOU
ELIGIBLE?
Determine which funding options are available to you with our handy Benetrends funding calculator.
Your Results Are In!
You May Pre-Qualify For
$9,195,000.00
Based on the information you entered, our pre-qualification estimator has determined the possible amount of funding you may qualify for above, as well as a further breakdown of funding options in the chart below. This total amount is estimated based on all available options, including cash, retirement funds, stocks and bonds, plus an estimated SBA loan amount.
Additional factors may impact the amount of funding available, and not all funding options can be used in combination. Please consult with a representative to discuss your individual situation and confirm actual results.
$1,250,000

RAINMAKER 401(K) PLAN

$7,875,000

SBA LOAN

$875,000

SBLOC

TIME TO FUND
10 - 20 business days
30 - 60 business days
10 business days
TERM
none
7 - 10 years
Revolving
INTEREST RATES
none
Prime + 2.75%
Variable
MONTHLY PAYMENTS
$0
Principal + Interest
Interest Only
*Although you may not have qualified based on the inputs provided, there are certain situations where you may still be eligible for this program or other programs. We recommend speaking with your local consultant to give you a more accurate prequalification.
This tool is intended to be used for educational purposes. Results should not be deemed definitive or regarded as a promise or final determination of funding. It is an estimate based on the information provided to us, and therefore must be validated for accuracy. Some factors which could impact this amount include: liquid assets available after closing, outside or secondary source of income, applicable or transferable management skills and the ability to satisfy SBA collateral requirements.
WHAT MAKES NEXTAFF AN
IDEAL STAFFING FRANCHISE OPPORTUNITY?
CONTROL OVER LARGE TERRITORIES
Dominate Your Market: It's easier for NEXTAFF Owners to get distinctive brand recognition within large territories.
Grow substantially: Larger territory sizes mean greater potential to partner with more companies looking to hire employees.
EMOTIONALLY REWARDING
Can you imagine what it would be like to leave work every day knowing you helped match someone to the career of their dreams? Our Staffing Franchise Owners do it every day.

EXPLOSIVE GROWTH IN MULTIPLE VERTICALS
Commercial: Continued talent shortages in 2022 will help staffing demand in the commercial vertical surge once again.
Information Technology: IT is projected to outpace all other industries, growing revenue by 12% in 2022.*
Healthcare: Healthcare employment is predicted to increase by 17% in 2022.**
*StaffingIndustry.com
**TheFuturePositive.com
As a NEXTAFF Staffing Franchise Owner, you'll be able to apply the business skills you've built throughout your professional career- except this time, you're not just the employee, you own the business!
You already have what it takes to run a NEXTAFF franchise, thanks to your extensive sales background and business savvy.
No staffing industry experience required!
Executive experience & P&L knowledge
What can owning a NEXTAFF staffing franchise do for you?