Our Healthcare Franchise is Now Staffing in Fort Worth, Texas!
As the need for healthcare staffing continues to skyrocket, particularly in the hard-hit hospitals and medical facilities in cities nationwide, the demand for qualified staff in the healthcare industry also continues to surge. Because of this, we can't think of a better time to open our all-new NEXTAFF in Fort Worth, Texas. Co-owned and operated by multi-unit NEXTAFF Franchise Owner John Snellings and Managing Partner Skyler Windmiller, our newest location focuses solely on healthcare staffing, which will come as a great benefit to medical professionals in the Fort Worth area.
A little bit about our Fort Worth facility 
We're proud to announce that our newest office will specialize in providing caregiver and nurse staffing for long-term care patients and local healthcare facilities in Fort Worth and surrounding areas. 
Our Fort Worth facility will be a go-to hub for the local community and work towards filling a wide range of crucial healthcare positions including Residential Care Attendants, Certified Nursing Assistants, Certified Medical Assistants, Licensed Vocational Nurses, and Registered Nurses.
Our aims and objectives 
Our core aims? Alongside John and Skyler, our objective is to help long-term care facilities operate as efficiently as possible while rejuvenating the DFW healthcare workforce. 
With specialist NEXTAFF staffing, we'll be putting quality nurses and caregivers where they are most needed, giving the Fort Worth community the support and infrastructure they need to serve their residents.
Fueling demand 
With demand for healthcare professionals increasing in the area, our newest staffing technology franchise is set to give Fort Worth employers a truly personalized service beyond that of a typical healthcare staffing provider. NEXTAFF will be facilitating access to the best and most highly skilled nursing professionals.
Why we're different 
Here at NEXTAFF, staffing is at our core. But our ethos goes above and beyond staffing as you know it. At our new location in Fort Worth, we're going to be helping local health care facilities in more ways than just staffing. 
That's what gives NEXTAFF the X-FACTOR. 
Staffing the NEXTAFF way goes beyond a basic hiring strategy.  
We look at staffing through a wider lens. We look at the bigger picture. For us, staffing is a form of consulting and each and every one of our unique staffing franchises is a legitimate consulting entity in its own right. 
Through our proprietary X-FACTOR model, we take a comprehensive approach to recruiting, screening, and hiring the highest quality talent. This is how we position ourselves to consistently and considerably outperform traditional temp work agencies and supplier models. 
Each NEXTAFF office is owned and operated by a local Franchise Owner. And that's the real magic. We wholeheartedly believe that embracing local knowledge is the best way to find amazing employees. 
Our clients are able to work directly with NEXTAFF Franchise Owners to access customized solutions and the very best staff in commercial, information technology, and healthcare industries.
The benefits of owning a NEXTAFF franchise
Becoming a NEXTAFF Franchise Owner means that you'll be providing quality talent for businesses and industries in your local community. Our staffing technology franchise model is based on a very simple (but very true) premise: companies are always looking to hire quality people, and people are always looking for jobs. 
In other words, NEXTAFF provides a service that is vital to the business landscape in any economy.  Whatever external factors are at play in the socio-economic context, staffing will always be in demand. 
So, why NEXTAFF?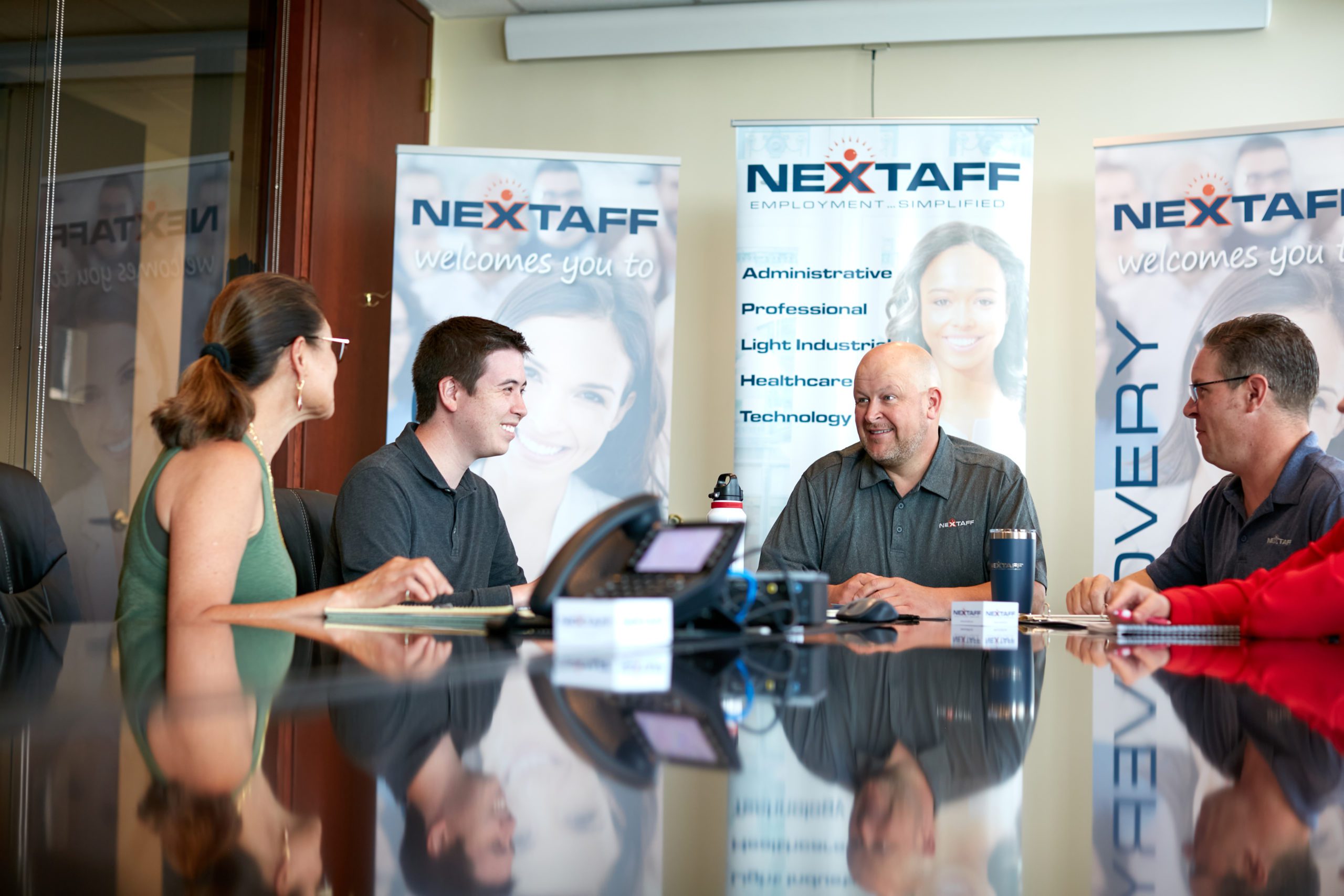 Unparalleled support 
NEXTAFF Franchise Owners have access to unparalleled support. As a Franchise Owner with NEXTAFF, you'll be encouraged to concentrate on growing your business with the help of ongoing sales and marketing, operations, management, and finance support. 
Elevated presence 
As a NEXTAFF Franchise Owner, you'll enjoy an elevated presence in your local community and be able to expand your reach to business contacts in neighboring communities too. Thanks to our large territory sizes, our staffing franchises have the opportunity to build widespread and strong local networks of clients and talent.
Proven profitability 
Our franchise model has consistently proven itself when it comes to profitability. Our Franchise Owners enjoy the high potential for ROI and a 7-month median breakeven point.
Innovative approach 
NEXTAFF isn't like any other temp work agency.  Our highly innovative approach to staffing consistently outperforms traditional staffing agencies. That's what gives us our X-FACTOR. 
Rewarding work 
Most Importantly, becoming a NEXTAFF Franchise Owner is rewarding work. At the end of the day, you'll know that you are serving your community by matching people with careers and organizations with the talent they need to grow and thrive.
Could you be our next NEXTAFF partner? 
We're always excited to meet prospective NEXTAFF Franchise Owners. If you've been craving a change of pace in your career that's rewarding, flexible, profitable, and proven, then you might just be our perfect match. 
If that sounds like you then head on over to our website for more information. 
Just like John and Skyler in Fort Worth, you could soon be serving your local community with quality staffing like no other. 
Where will you take us next?
Your path to a secure future.
Take the first step. Find out more about one of the fastest growing companies in the $160 billion staffing agency franchise industry. Our detailed Franchise Information Report teaches about our business model, financials, and more.
Complete the form below for your free copy.